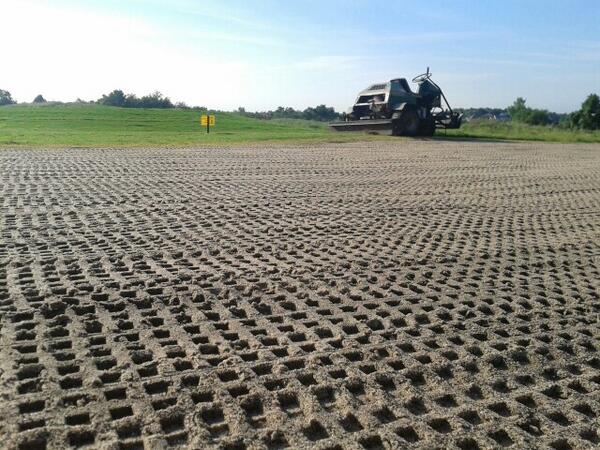 Those of you that have played recently may have noticed some construction work taking place behind the first tee box. This work is to renovate a small putting green. A few years ago, the sod was needed to make repairs to some areas on the golf course and was never repaired. During the demolition phase, I discovered that a 2-3 feet of the original green had been encroached by Bermuda so we took the opportunity to enlarge the green to its original dimensions. In the end, we added back approximately 400 square feet to the green. This will allow us more room for hole locations.
Over the past few weeks, staff removed the old greens mix and prepped the new mix for seeding. This morning the putting green was seeded with an improved Bentgrass variety called "Tyee." This newer variety is the same as the Chipping green as well as #'s 12-14. We like this new variety due to it's improved density, drought tolerance and disease resistance. Seeding the new green today should allow for some quick germination. By Monday, we should start to see some light green "peach fuzz" developing. Once we get all the seedlings up, we need to be very careful to keep it moist and apply timely fertilizer applications to allow the turf to fill in rapidly. We hope to have our first mowing in 2-3 weeks.
I will ask that as this green begins to fill in, golfers resist the temptation to putt on it so the turf has every chance to fill in by winter. We plan on officially opening this green sometime in the spring.
If you have any questions about the process just let me know. Thanks